A full article on the Inquisition is available on Lexicanum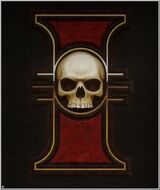 The Holy Orders of the Emperor's Inquisition, more commonly known as the Inquisition, are a secretive and powerful organization of the Imperium responsible for guarding the souls of humanity. The purpose of the Inquisition is to identify and destroy the myriad of potential threats to the Imperium and humanity. The organization's members are agents known as Inquisitors.
General Organisation & Purpose
Edit
The Inquisition was formed by unknown means, with two particularly prominent stories that are speculated upon. However, their ultimate motive is officially to safeguard the well being of the Imperium of Man against any threat, and by any means neccessary. This gives Inquisitors totally unparalled access and command over even High Command staff of the Imperial Guard.
It is broken down into three major sectors, known as Ordos, which each specialise in particular areas. These are:
Ordo Hereticus, which is designed to face traitors, psykers and other heretical elements posing a threat.
Ordo Malleus, who specialise in Daemoncraft and warp manifestations.
Ordo Xenos, designed to deal with the alien threat.
Role in the Sabbat Worlds Crusade
Edit
Due to the....
TBC
Inquisitors
Edit
Throughout his career, Gaunt has encountered numerous Inquisitors and representatives, as have his regiment. The following have had contact with the Tanith in some form:
| | | |
| --- | --- | --- |
| Name | Ordos | Manner of Meeting |
| Golesh Constantine Pheppos Heldane | Ordo Malleus | |
| Lilith Abfequarn | Ordo Hereticus | |
| Gabel | Ordo Hereticus | |
| Lornas Welt | Ordo Hereticus | |
| Interrogator Sydona | Ordo Hereticus | |
| Handro Rime | Ordo Hereticus | |
Ad blocker interference detected!
Wikia is a free-to-use site that makes money from advertising. We have a modified experience for viewers using ad blockers

Wikia is not accessible if you've made further modifications. Remove the custom ad blocker rule(s) and the page will load as expected.