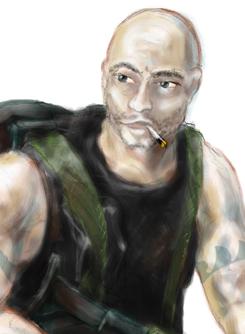 Name
Aongus Brostin
Origin
Tanith Magna, Tanith
Before the Regiment
Firefighter, arsonist
First Appearance
First and Only
Last Appearance
Only in Death
Book Count
11
Flame-Trooper Aongus Brostin
is the senior flamer operator, and a member of Rawne's B Company, in the Tanith 1st. A reknowned pyromaniac, Brostin's obssesion with fire ranges from chain smoking to his barrage special weapon,
Mister Yellow
. For a long time, Brostin was dismissed as just being one of Rawne's cronies, as a member of the old 3rd Platoon. Despite this, Brostin proved his skills and value to Gaunt with his marshalling of the under-appreciated flame troopers of the regiment and ability to exploit his true love at the expense of the enemy. Brostin was a member of the
Gereon 12
.
Ad blocker interference detected!
Wikia is a free-to-use site that makes money from advertising. We have a modified experience for viewers using ad blockers

Wikia is not accessible if you've made further modifications. Remove the custom ad blocker rule(s) and the page will load as expected.