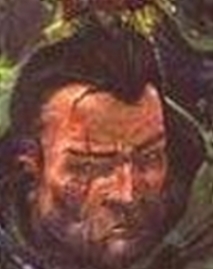 Name
Bragg
Origin
Woodland villages, Tanith
Before the Regiment
Lumberjack
First Appearance
First and Only
Last Appearance
Only in Death
Book Count
6
Trooper 'Try Again' Bragg was a heavy weapons specialist in Corbec's 2nd Platoon of the Tanith 1st regiment. Born on Tanith, Bragg was by some distance the largest soldier in the regiment and posessed inhuman strength that could see him carry normally mounted weapons or kill a man with a punch. Bragg was a highly popular member of the regiment not only for his battlefield value but also for his almost childlike friendly demeanour, sense of humour and his ability to brew top range home made Sacra. Despite only being a trooper, Bragg was on a few occasions given greater responsibilites and vindicated them with a good sense of tactics and logic that many would not credit to him. His nickname, 'Try Again', came as a result of his terrible aim. He was killed by Trooper Lijah Cuu on Phantine, at the end of The Guns of Tanith. He later apppears as one of Soric's ghosts in Only in Death.
Appearance
Edit
Bragg is described as being enormous in terms of both height and mass, standing at about well over 2 metres tall (making him almost 7"0 foot), and about as wide as two regular men. He also had a warm, often smiling face and dark features.
Personality
Edit
Underestimated and simply dismissed as simple by many due to his size and strength, Bragg in actual fact had a very refined intelligence and grasp of combat which was often undermined by his clumsy demeanour and, again, his size.
He was also very aware of the image of himself he projects, and even used this to his advantage on occasion. Bragg was well liked by the men of the regiment due to his positive outlook and friendliness, often 'looking out' for his friends like Caffran, Milo (who he referred to as Brinny Boy) and Larkin, his best friend.
Early Life & Background
Edit
The Tanith 1st
Edit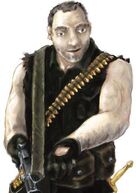 On the founding fields of Tanith, Bragg billeted with Larkin, Corbec and Rawne and made his presense known early on with his ability to bring autocannons, heavy bolters and missile launchers into the field. He was originally a support trooper in Corbec's platoon who rarely required a feeder.
Caligula
Edit